Auto Paint and Rust Removal
Perfect for restoring all types of vehicles including classic cars, modern cars, coach buses, campers, RVs, fleet vehicles, heavy machinery, trucks, tractors, trailers, and much more.
Since we are mobile and our system creates NO DUST, we can come to you and blast your car right where it is.Texas Green Blast, LLC., delivers excellent service on time and within your budget. Our employees are experienced and insured so you can trust your next project with us.
Dustless Blasting will strip virtually any automobile in under 2-3 hours. Our equipment will allow us to blast anywhere you wish and strip your vehicle to white metal. Our process will remove paint, rust and even body filler in one step. Collision and Restoration shops as well as Auto enthusiasts can all benefit.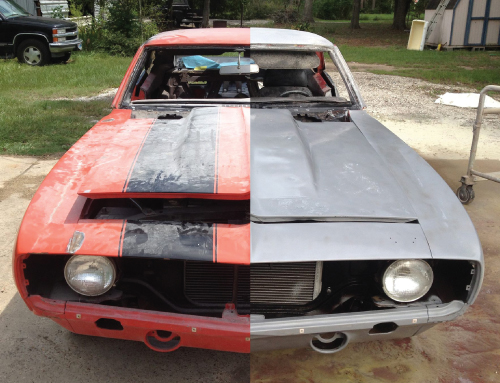 This system completely removes paint, rust and chloride, leaving a perfect paint ready surface. It also prevents flash rust for up to 72 hours.

NOTE: For all metal surfaces: PRIMING SHOULD TAKE PLACE
NO LONGER THAN 72 HOURS AFTER BLASTING.